Blue Imps Smurfy Awards
Do you have a smurf website you would like to submit to win a Blue Imps Smurfy Award? The purpose of the Blue Imps Awards Program is to honour and reward those web designers who work hard showcasing their talents within the pages of their smurf websites.
Each applicant has the chance to win either a Gold, Silver, Bronze or Merit Smurfy Award in recognition for their talent, creativity and hours of devotion spent on their smurf websites all over the world. To promote better web design applicants may re-apply to upgrade their award after substantial changes have been made to improve their site.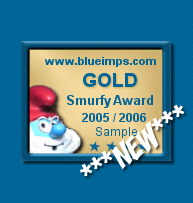 2005 / 2006 Smurfy Awards - Apply now by clicking the link on the right or the graphic above.
Please note for the 2005 / 2006 awards, there will be a new tougher marking system to encourage better web design.
If you have won an award in the past, unless you have kept you site updated you may not automatically win the same award.